Dialogic DSI SS7MDL4 Network Interface Board

Low Density Signaling for Effective Value-Added Services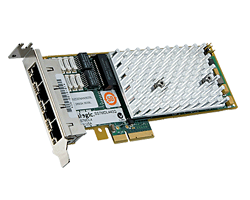 Click here to jump to more pricing!
Overview:
The Dialogic DSI SS7MDL4 Network Interface Board offers multiple levels of signaling link density for SS7 and ATM networks in rack-mount servers with low-profile or full-height PCI Express peripheral slots. Flexible capacity licensing enables message processing from 16 to 124 low-speed links or 2 or 4 high-speed MTP or ATM links.
The DSI SS7MDL4 supports the Dialogic Distributed Signaling Interface (DSI) SS7 Protocol Stack, allowing API-level compatibility with applications developed for other DSI network interface boards including Dialogic DSI SS7HD and DSI SPCI Network Interface Boards. Application development for the DSI SS7MDL4 is accelerated by a comprehensive suite of test utilities, sample code, and user-part programming guides.
The DSI SS7MDL4 delivers the high-capacity message-signaling-units-per-second performance required for demanding value-added services such as messaging, call completion/prepaid calling, roaming, and intelligent network applications.
Flexible Licensing
The DSI SS7MDL4 can be licensed and deployed with a number of different link capacities and network protocols to allow scaled pricing to match the levels of throughput required. See the table of order codes at the end of this datasheet for a list of options.
Easy Migration for Existing Signaling Applications
Existing signaling-only applications using Dialogic DSI APIs or the Dialogic Global Call API for SS7 and currently deployed with DSI SS7HDP or DSI SPCI Network Interface Boards can be executed on systems configured with the DSI SS7MDL4 without programming changes in the service logic. Applications using the CT bus functionality of the DSI SS7HD or DSI SPCI Boards will require modification to use the drop-and-insert feature of the DSI SS7MDL4. Alternatively, other Dialogic products that support the CT bus or combined signaling and media may be used. Contact your Dialogic sales representative for information on other Dialogic products and capabilities.
Features and Benefits:
| Features | Benefits |
| --- | --- |
| 16 to 124 low-speed MTP links; 2 or 4 high-speed (2 Mbps) MTP links | Applies the same technology to large and small volume nodes |
| 2 or 4 ATM links with IMA capability | Expands service deployment opportunities to ATM networks using the cost-effective technology (IMA) for cell transmission |
| Message rates of 20,000 MSU/second | Delivers performance capacity to meet high call volumes and demanding transaction-intensive services |
| High-impedance (HiZ) connectivity | Enables passive MTP or ATM traffic monitoring |
| Low-profile, PCI Express form factor with alternate full-height bracket | Supports rack-mount servers designed for small footprint peripherals |
Specifications:
Technical Specifications
Digital interfaces

4 T1, E1, J1 (software selectable on a per trunk basis)
High impedance selectable for monitoring
Selectable synchronization source from any line interface

Telecom clock management

Configurable LT (clock slave) or NT (clock master) mode
Internal and external loop back capability

Pulse mask

T1 ANSI T1.403

E1 ITU-T G.703

J1 TTC JT-G.703

Data rate

T1 1544 Kb/s ± 50 ppm
E1 2048 Kb/s ± 50 ppm
J1 1544 kbits/s ± 50 ppm

Frame format

T1 : F4, D3/D4, ESF and F72/SLC96
E1 : E1 and E1-CRC4
J1 : J1 frame format

Line codes
HDB3, B8ZS, AMI
Connector type
RJ-45
Maximum boards/system
4
Host interface

PCI Express compatible as a 4-lane (x4) physical form factor with a single lane connected that can be installed in 4, 8, or 16 lane PCI Express slots
Bus speed 1 x PCI-Express lane (2.5 Gb/s, full-duplex)

Capacity
Channelized links
16 to 124 channelized 64 Kb/s MTP low-speed links (LSL)
High-speed links

2 or 4 high-speed, Q.703 links (HSL), framed T1/E1
2 or 4 ATM links, AAL5 with IMA capability

Link configuration
Selection between low-speed links and high-speed links is made via software on a per trunk basis
Protocol execution
MTP2 on board, higher levels on host
Network protocol execution

Q.SAAL/GR-2878
SS7 (MTP1 & MTP2)HDLC monitoring

HDLC monitoring
Passive monitoring of HDLC format data links, including SS7, LAPB, LAPD, ISDN, and DPNSS
Performance
Performance

MSUs per second: 30,000
MTP calls per second: 7,800
MTP transactions per second: 5,600
ATM calls per second: 4,100
ATM transactions per second: 5,200
Stated performance achieved using a single board in a multi-core computer (8 x 1.6 GHz)

Platform
Form factor
 Low-profile
Dimensions
2.7 in. (6.89 cm) long
6.6 in. (16.76 cm) high
Power Requirements
+12 VDC power
1.1 A typical, 1.4 A max
Power dissipation
17 W max
Environmental Requirements
Operating temperature
0°C to +55°C
Air flow
1.5 m/s min (300 LFM)
Storage temperature
–20°C to +70°C
Relative humidity
8% to 80% non-condensing
Altitude
0 to 15,000 ft
Safety and EMC
Canada
ICES-003 Class A, CSA 60950-1 1st Ed.
Europe
EN60950-1 1st Ed., Cispr 22: 2006 Class A, EN55022:2006 Class A, EN55024: 1998 w/A1:2001, A2:2003, EN300386:V1.4.1
United States
FCC Part 15 Class A, CSA 60950-1 1st Ed.
CB Scheme
IEC 60950-1 1st Ed.
Telecommunications
United States
TIA-968-B
Canada
CS-03 Issue 9
Europe
TBR 12 and 13
Warranty
Warranty
3-Years