Dialogic D/42JCT-U PBX Integration Board

Field proven, 4 port, PBX Integration board with media resources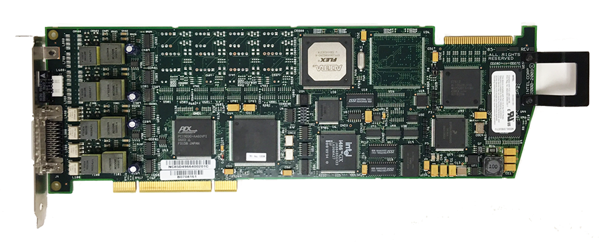 Click here to jump to more pricing!
Overview:
The Dialogic D/42JCT-U PBX integration board offers advanced digital connectivity to many popular private branch exchanges (PBXs) for unified and Internet-ready call, voice, and fax processing applications in small- to medium-sized enterprises. It is available in a PCI Express (PCIe) version.
Featuring programmable soft-ports capable of supporting voice, fax, call handling, and host-based speech technologies, the D/42JCT-U reduces the cost of ownership for systems requiring multimedia functionality. The universal PBX interface of the D/42JCT-U offers downloadable firmware for a selection of widely used telephone equipment switches. Support for advanced PBX features such as called and calling number identification, message waiting notification, busy lamp fields, and disconnect supervision is useful for developing unified messaging, interactive voice response (IVR), and call management solutions.
By choosing the D/42JCT-U for enterprise applications, developers eliminate the complexities associated with analog or T1 integration, as well as costly investments in proprietary computer-telephone integration (CTI) links.
Features and Benefits:
| Features | Benefits |
| --- | --- |
| Four digital interfaces to Avaya, Mitel, NEC Nortel, and Siemens switches | Allows connection to popular PBX models by leading manufacturers |
| Digital interfaces to the PBX | Enables tight, direct switch integration that eliminates the need for expensive digital/analog conversion cards or serial ports |
| Access to switch information | Supports important PBX features such as ANI, DNIS, date/time, and reason for call redirection |
| Advanced digital connectivity | Provides more information from the PBX than analog connection without the need for separate links and third-party call control |
| Phone-emulated supervised/unsupervised transfers and disconnect supervision | Allows faster, more reliable transfers than analog connection |
| Supports GSM and G.726, the coders of choice for Internet-ready unified messaging applications | Enables messaging integration with many popular email servers and applications |
| One channel of Softfax per card, sharable across CT Bus | Provides scalable fax capability at a low cost by eliminating the need for additional fax hardware |
Specifications:
Technical Specifications
Voice resources
4
Fax resources
1
Conferencing resources
0
CSP
Yes
Form factor
PCIe x1
Physical Dimensions
Standard-height, full length form factor
12.28 in. (31.2 cm) long
4.2 in. (10.67 cm) high
Resource bus
CT Bus
Connection
Digital
Network interface
Avaya, Mitel, NEC, Nortel, Siemens
Signaling
Digital PBX
Operating system
Linux, Windows
Volts
PCIe: 3.3 V, 12 V
Required accessories
D82UCABLE; cable connects board to PBX
PBXs Supported:
| Manufacturers | Phone Emulations | PBX Switches |
| --- | --- | --- |
| Avaya | 7434 (4-wire) | DEFINITY, System 75/85 |
| Avaya | 8434 (2-wire) | DEFINITY (G3 V4 and higher) |
| Mite | Superset 420 | SX-50 |
| Mite | Superset 430 | SX-200ML, SX-2000 |
| NEC | DTERM 111 | NEAX 2400, NEAX 2000 IVS, IVS2, IPS, Electra Elite, Electra Professional |
| Nortel Networks | M2616 | Meridian 1 |
| Nortel Networks | M7324 | Norstar DR5, CICS, MICS |
| Siemens | Optiset E | Hicom |
| Siemens | ROLMphone 400 (RP 400) | CBX 9005, 9006, 9751 |