Network Congestion

The explosion in video, voice and data communications has challenged network operators to balance the challenges of network expansion with business profitability. Dialogic solutions re-energize congested networks by optimizing network traffic and amplifying capacity gains of up to 500% at a fraction of the cost of new network capacity. The company's key technologies are network agnostic, successfully driving capacity gains over TDM, VOIP, 2G, 2G, 4G, LTE, satellite, microwave, copper and fiber transport. Dialogic has standalone optimization systems that complement your current infrastructure to sharply reduce network traffic and minimize bandwidth requirements - Why build more network when you can make your existing network better?
Dialogic I-Gate 4000 Session Bandwidth Optimizer products are standalone systems that optimize network traffic and reduce bandwidth requirements. These products:
Make the most efficient use of current infrastructures and reduce CAPEX and OPEX.
Support the delivery of better customer satisfaction and retention. Enable the ability to increase the number of subscribers and new services while keeping the same bandwidth costs.
Deliver optimization over any transport (fiber, copper, microwave or satellite. 2G, 3G, LTE or VOIP) on mobile and wireline networks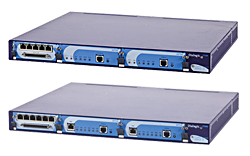 The Dialogic I-Gate 4000 Mobile Backhaul Session Bandwidth Optimizers (I-Gate 4000 MB SBO and I-Gate 4000 MBX SBO) are standalone system that can optimize bandwidth and increase bandwidth capacity significantly in the backhaul segments of both 2G and 3G mobile networks.
Both the I-Gate 4000 MB or MBX SBO provide a cost-effective and efficient strategy for increasing backhaul capacity toward significantly reducing capital and operation expenses because they optimize Abis (connection between the Base Transceiver Station and Base Station Controller) and Iub (connection between RNC and Node B) data streams, including both ATM and IP-based Iub streams.

The Dialogic I-Gate 4000 Session Bandwidth Optimizer Core X (I-Gate 4000 SBO-CX) is designed to deliver a large reduction in the bandwidth requirements and the traffic load (packets per second) for mobile and wireline networks – working on VoIP, Nb, or IuCS traffic, allowing for significant CAPEX and OPEX savings.  It is a versatile solution, which can be deployed to optimize traffic carried between VoIP Media gateways, 3G Mobile Media gateways and Session Border Controllers.