Dialogic IMG 1010 Integrated Media Gateway

Integrated gateway solutions to enable connections between networks, services and subscribers with ease and scale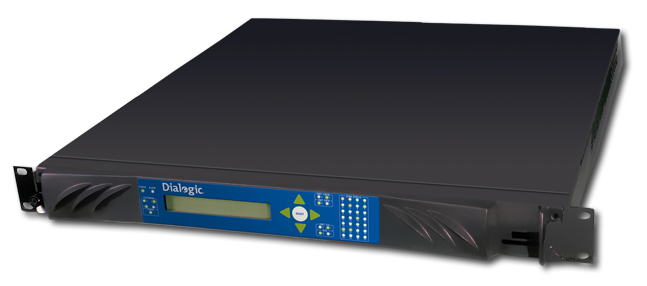 Click here to jump to more pricing!
Overview:
The Dialogic IMG 1010 Integrated Media Gateway is a carrier-ready VoIP gateway that supports both media and signaling in a single chassis. It allows service providers to add new telephony services quickly, and gives them a clear migration path to an all-IP network.
The IMG 1010 provides any-to-any voice network connectivity and can deliver SIP services into legacy SS7, PRI, and CAS networks, as well as IP-to-IP transcoding and multimedia border element functions, such as SIP mediation for network edge applications. Its compact 1U high-density design, integrated SS7 termination across multiple gateways, GUI-based management, and software licensing for inservice capacity expansion make the IMG 1010 an excellent option for VoIP.
The IMG 1010 also features the Dialogic Programmable Protocol Language (PPL), which allows rapid implementation of SS7 ISUP variants and other signaling changes.
Features and Benefits:
| Features | Benefits |
| --- | --- |
| Simultaneous support for PRI, CAS, and SS7 signaling, along with SIP and H.323 | Provides a flexible, cost-effective platform that can evolve from TDM-IP to all IP |
| SS7 signaling, call routing, call translation, and IP transcoding supported in a single chassis | Can reduce complexity and administrative overhead for VoIP services, and allows on-the-fly voice coder conversion |
| Supports multimedia border element capabilities, including SIP mediation, topology hiding, and media transcoding. | Facilitates efficient operations between incompatible network elements in a service provider infrastructure |
| Supports up to 1024 channels in a 1U chassis | Allows easy scalability from 96 to 1024 channels in a small footprint |
| Wireline and wireless support, including ENUM and DNS | Enables fast connection time and lower phone charges because callers can connect to each other directly without using the PSTN |
| NEBS 3 carrier-grade design uses independent network interfaces to separate transport, signaling, and OAM&P | Provides high reliability and service availability |
| Works with load balancers | Optimizes distribution of SIP traffic and improves scalability and fault tolerance |
Specifications:
Technical Specifications
Features
Routing Features

Call routing and translation based on ANI, DNIS, Generic Number (call routing only supported), and Nature of Address (NOA), Time of Day, Day of Week/Year
Algorithms include percentage-based routing and disposition by Cause Code
Pre- and post-routing digit translations with wildcard support
Multiple routing algorithms per trunk group or groups of trunks for IP-to-TDM and IP-to-IP and both A-law and µ-law conversions
Pre-call announcement (branding)

IP Bearer Features

Coder support: AMR, iLBC, G.711, G.723.1, G.729 A/B, G.729 E/G, GSM-FR, G.726, RFC 4040 clear channel
Echo cancellation: G.168 128 ms tail length
Voice activity detection
Comfort noise generation
T.38 Real Time Fax
Fax/modem bypass
Digit transmission via RFC 2833 (SIP and H.323) or H.245 UII (H.323)
Symmetric NAT Traversal
Secure RTP media (for SIP)

OAM&P

Centralized Element Management System
GUI-based system allows monitoring and provisioning of up to 32 gateways
Node wizard for simplified configuration
Centralized routing engine simultaneously configures gateways in the network
Radius (billing, authentication, prepaid)
Local time zone support and Network Time Protocol (NTP)
SNMP
MIBs: MIB-2, Interface, Alarms, DS0, DS1, and DS3
Cacti reporting

Power Requirements
AC Power Supply Range
120 - 240 VAC 50/60 Hz with voltage range (90 V to 240 V)
DC Power Supply Range
-48 VDC with voltage range (-40 V to -60 V)
Power consumption
90 W (can vary from 80 W to 100 W based on load)
Physical Specifications
Dimensions
1.72 in. high (43.7 mm)
17.25 in. wide (438.2 mm)
19.00 in. deep (482.6 mm)
Weight
18 lb (8.1 kg)
Maintenance
Resiliency

SS7 Signaling: 1+1 active/standby redundancy
DS3 N + 1 active/standby redundancy
Redundant Element Management System servers
IP Probing (Ethernet links)
Graceful software upgrade over multiple IMG 1010s
Graceful busy out per trunk group
Virtual IP addresses for SIP load balancing (via third party server)
Local termination of ISUP links and IP backhaul to IMG 1010 signaling node
Call Release due to media inactivity timeouts
Optional dual DC power

Capacity

96 - 768 TDM channels per 1U shelf (scalable from 3 E1/ 4 T1 to 24 E1 / 32 T1)
96 - 1024 VoIP channels per 1U shelf

IP Interfaces
I/O Interfaces

Telephony: T1 and E1, or DS3
IP: 4 - Fast Ethernet for control and signaling, 2 - Gigabit Ethernet for VoIP payload
T1/E1s for timing (BITS clock) and signaling
Loop timing via any telephony port

Protocols
TDM Signaling Protocols

ISDN PRI (FAS and NFAS): NI2, Euro ISDN, DMS 250, 5ESS, JATE/Japan INS-NET1500
T1/E1 CAS (FGB, FGD and MFR2)
Q.699 ISDN to SS7 mapping
ISDN UUI mapping to SIP and H.323
SS7/C7 ISUP: ITU and ANSI variants supported through the Dialogic Programmable Protocol Language (PPL)
SS7 TCAP for message-waiting-indication and Caller Name (CNAM) service
64 SS7 links in standalone configuration and 128 SS7 links in redundant configuration (A-links and F-Links supported)
E1 to DS3 mapping (for third-party STM-1 multiplexor compatibility)
ISDN call transfer and bridging via Explicit Call Transfer, Two B Channel Transfer, and Release Link Trunking (initiated via SIP REFER)
Delayed ANM for ISUP (triggered by third-party SIP call transfers)

IP Protocols

H.323
H.323 v2
H.323 Keep Alive

SIP and Related Specifications

RFC 2246 Transport Layer Security (TLS) for SIP
RFC 2327 Session Description Protocol (SDP)
RFC 2976 SIP Info for digit transmission (#,*) and interworking DTMF
RFC 3204 MIME Media Types for ISUP and QSIG (ISUP only supported)
RFC 3261 SIP Basic
RFC 3262 SIP PRACK
RFC 3263 Locating SIP servers for DNS lookup SRV and A records
RFC 3264 SDP Offer/Answer Model
RFC 3265 SIP Subscribe/Notify
RFC 3311 SIP Update
RFC 3323 Privacy Header Field (partial support)
RFC 3325 Asserted Identity
RFC 3326 SIP Reason Header
RFC 3372 SIP for Telephones (SIP-T)
RFC 3398 ISUP/SIP Mapping
RFC 3515 SIP REFER
RFC 3578 ISUP Overlap Signaling to SIP
RFC 3581 Symmetric Response Routing
RFC 3666 SIP to PSTN Call Flows
RFC 3711 SRTP (for SIP)
RFC 3725 Third Party Call Control for SIP
RFC 3764 ENUM for SIP Address of Record
RFC 3891 SIP Replaces Header
RFC 3892 SIP Referred-By Mechanism
RFC 4028 SIP Session Timer
RFC 4244 SIP History info (for call diversion)
RFC 4412 Communications Resource Priority for SIP (partial support)
RFC 4568 SDP Security Descriptions for Media Streams
RFC 4904 SIP tgrp (trunk group) parameter
SIP 3xx Gateway Responses and 302 Initiate
SIP Diversion Header
SIP Trunk Group IDs (OTG, DTG)
SIP Coder Negotiation
SIP Busy Out
SIP P-Charge-Info Header
ITU-T Q.1912.5 – SIP and ISUP Interworking (includes SIP-I) and Overlap signaling (SIP to SIP ISUP)
SIP Mediation (SIP to SIP)
SIP to SIP-I/SIP-T

SIGTRAN

RFC 3332 — M3UA Adaption Layer
M3UA Application Server
M3UA Signaling Gateway for TCAP/SCCP

QoS

Adaptive jitter buffer
Packet loss compensation
Configurable Type of Service (ToS) fields for packet prioritization and routing

Approvals and Compliance
EMC/EMI

USA/Canada: FCC Part 15, ICES-003
European Union: EN55022: 2006/A1:2007, EN55024: 1998/A1:2001/A2:2003, EN300386: 2001 Ver. 1.4.1
Australia/New Zealand: AS/NZS CISPR 22:2006
Japan: VCCI

Safety

USA/Canada: UL 60950-1 2nd Ed.
European Union: EN60950-1
Australia/New Zealand: AS/NZS 60950.1:2003 /A1:2006 /A2:2008

CB Scheme
International CB Scheme IEC 60950-1
Telecom Approvals

USA/Canada: FCC Part 68/IC CS-03
European Union: TBR 4, 12, 13
Australia/New Zealand: AS/ACIF S-016 and S-038/TNZ Telepermit
Japan: JATE Green Book

Reliability/Warranty
Warranty
1-year
Estimated MTBF per Telcordia Method 1

AC power: 61,367 hours
DC power: 71,666 hours
Compare:
| Get the IMG that fits your needs. | IMG 2020 | IMG 1010 | IMG 1004 |
| --- | --- | --- | --- |
| SIP-SS7 Interworking | | | |
| SIP-SIP-I/T Interworking | | | |
| Media Transcoding | | | |
| High Traffic Applications | | | |
| Mid to Low Density Applications | | | |