Dialogic CG 6565 Media Boards

Media processing and gateway capabilities for digital T1/E1, IP, and converged environments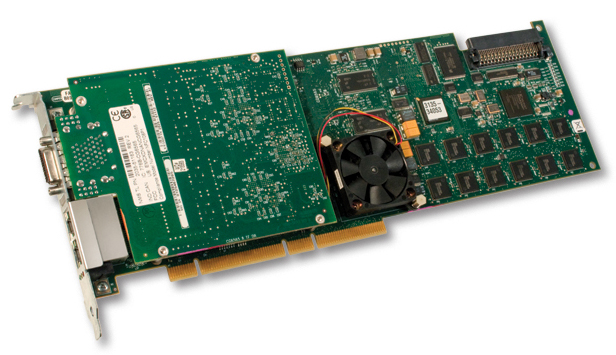 Click here to jump to more pricing!
Overview:
The Dialogic CG Series Media Boards can be used to create powerful communications solutions for public telephone network, IP-only, and converged IP/circuit-switched environments. By using these boards with Dialogic NaturalAccess Software, developers can rapidly build and globally deploy a broad range of telephony applications on a single platform.
The CG Series Media Boards provide full-duplex universal port capabilities, which can support a combination of voice play/record, tone detection/generation, echo cancellation, and voice compression, as well as trunking, fax, conferencing, and VoIP functions in a single PCI, CompactPCI, or PCI Express slot.  The universal port feature eliminates the need to use multiple specialized boards, provides easy access to all supported features, and significantly reduces the time spent on configuration and development.
Because they support up to 16 PSTN trunks and are equipped with high-density Digital Signal Processors (DSPs), high-speed PowerPC co-processors, and built-in IP capabilities, the CG Series Media Boards are an excellent option for a variety of applications from small enterprise call centers and announcement servers, to powerful, high-density service provider ring-back tone platforms and media servers.
Features and Benefits:
| Features | Benefits |
| --- | --- |
| Software-selectable T1 or E1 digital trunks | Reduces total cost of ownership by increasing flexibility, reducing inventory, and simplifying the purchasing process and test effort |
| Dual Ethernet interfaces that can be used either as two independent subnets or in automatic failover mode that switches traffic to an alternate interface without interrupting in-progress calls | Allows support for both IP and TDM networks on a single platform, plus redundant IP configurations for high reliability |
| NaturalAccess Software | Uses a consistent set of APIs throughout the CG Series Media Board product line, which support popular operating systems |
| From 1,064 to 12,768 MIPS for media processing (model dependent) | Allows developers to choose the most cost-effective board with the correct amount of processing power, whether an application is voiceonly, is low-compute-intensive, or requires substantial DSP power |
| Full speed H.100/H.110 bus with 4,096 timeslots | Supports interoperability with other boards in open-architecture, high-capacity systems |
| 64 ms echo cancellation tail | Provides high-quality audio and clarity |
Specifications:
Technical Specifications
Digital interfaces
0, 8 T1/E1; Gigabit Ethernet
Boards/system
Application and server-dependent
Control processor
PPC 7448; 867 MHz clock
Control processor (CP) memory
256 MB
I/O mapped memory
Memory mapped interface for efficient block data transfers
Address/interrupts
Address and interrupts automatically configured by PCI BIOS (no jumpers or switches)
Supported operating systems
Windows; Linux
Host Interface
Bus compatibility
PCI Local Bus: R2.3 or PCI-X R1.0b
Bus mode
PCI target and master mode operation
Bus speed
100/133 MHz PCI-X bus or 33/66 MHz PCI bus
Telephony bus
ECTF H.100
Hot swap
N/A
Platform
Form factor
PCI universal expansion board
Compatible with both 5.0 V and 3.3 V signaling environments
Board dimensions
12.283 in. (31.2 cm) long
4.2 in. (10.67 cm) high
DSP
DSP
TI TMS320C5441 quad core DSPs each running at 532 MIPS
Universal port capability

IVR
Echo cancellation
Vocoding: G.711, G.723.1, G.729a/b, G.726, AMR-NB, EVRC, iLBC
T.38; T.37
Conferencing
Voice over IP

H.100/H.110 bus

Flexible connectivity between DS0 streams and H.100 bus
2,048 full-duplex connections to bus
Switchable access to any of 4,096 timeslots
H.100 bus clock master or slave (software selectable)
H.100 bus termination (switch enabled)

IP Network Connectivity
Interfaces
Dual 10/100/1000Base-T Ethernet RJ-45 connectors on connection panel
Protocols
RTP/RTCP, UDP, IP (v4 and v6), IPSec
PSTN Echo Cancellation
PSTN Echo Cancellation

Dialogic e256 ASIC, no DSP load
Up to 64 ms per channel
Selectable on a per channel basis
Greater than 18 dB of acoustic echo elimination
Bi-directional automatic gain control
Accelerated adaptive convergence
Numerous tone disabling options
Greater than 34 dB echo return loss enhancement
Intelligent double-talk detector
Meets or exceeds G.164, G.165, G.168 (2000)

PSTN Network Connectivity
Digital trunk interface connectors
8 trunks: MD0 miniRJ-21 connector
Impedance
Software-selectable; 100, 120 ohm
Telephony Interface DSX-1 T1
Interface
ANSI T1.102, T1.403
Framing
D4, ESF
Insertion/generation and extraction/ detection
ABCD bits
Line code
AMI, B8ZS
Zero bit suppression
Selectable B8ZS, no zero code suppression, zero code suppression
Alarm signal capabilities
Yellow, Red, and Blue
Counts
Bipolar violation, F(t) error, and CRC error
Robbed bit
Selectable on a per-trunk basis
Loopback
Per-channel and overall under software control. Automatic remote loopback with CSU option.
Telephony Interface CEPT-E1 G/703
Interface
G.703 2048 kbps trunk interface
Framing
CEPT G.703/G.704 Channel Associated Signaling
Power Requirements
Power

2.7 A max @ 3.3 V
2.9 A max @ 5.0 V
0.1 A max @ 12.0 V

Environmental Requirements
Operating temperature
0 °C to +50 °C @ 200 LFM
Storage temperature
-20 °C to +70 °C
Humidity
5% to 80%, non-condensing
Cooling requirements
Ambient Temperature: 35°C
CFM (per board): 1.7
Altitude: Sea Level

Ambient Temperature : 45°C
CFM (per board): 3.1
Altitude: 1000 ft.
Approvals, Compliance and Warranty
Digital multiplexer requirements and objectives
AT&T pub. 43802, July 82
Service description and interface specifications
AT&T TR 62411, ACCUNET T1.5
Carrier to customer installation DS1 metallic interface
ANSI T1E1/88-001R1, Feb. 88
ANSI T1 standard for ISDN Primary Rate Interface
T1E1.4/8868 (proposed text) April 88
Primary Rate User-Network Interface Layer 1 specification
ITU-T I.431, June 88
ISDN Primary Rate Interface specification
AT&T Pub. TR41449 AND TR41459, June 85
Audio Signal Processing
Sampling rates
8k samples/sec
Speech compression (IVR)

11 kHz, 8- or 16-bit linear (.WAV); 16-bit may reduce the number of ports per board
8 kHz 16-bit linear (.WAV)
64 kbps µ-law or A-law per ITU-T G.711
16, 24, and 32 kbps ADPCM using Dialogic algorithm with Dialogic framing and bit packing with up to 2x speedup on play back
OKI-compatible ADPCM 24 kbps @ 6 kHz or 32 kbps @ 8 kHz with up to 2x speedup on play back
IMA-compatible ADPCM 32 kbps with up to 2x speedup on play back
G.726-compatible ADPCM 32 kbps
MS-GSM with up to 2x speedup on play back
AMR-NB
G.723.1
G.729a

Tone Dialing
DTMF digits
0 to 9, *, # , and ABCD per ITU Q.23 and Q.24
Rate
Programmable (10 digits/sec nominal)
Wait-for-dial tone capability
Dialing parameters
Software configurable
(Note: Dialogic supplies configuration files that conform to national regulations for countries where certification has been received.)
Dialing amplitude
Software configurable; range -33 dBm to +1 dBm
(Note: Dialogic supplies configuration files that conform to national regulations for countries where certification has been received.)
Pulse Dialing
Digits
10 digits: 0 to 9
Pulsing rate
10 pulse/sec (nominal)
Make/break ratio
Software configurable; 40/60 nominal
(Note: Dialogic supplies configuration files that conform to national regulations for countries where certification has been received.)
DTMF Tone Detection
DTMF digits
0 to 9, *, #, ABCD
Dynamic range
-47 dBm to 0 dBm per tone, programmable
Tone duration
40 ms (minimum)
Acceptable twist
10 dB
Talk-off
Exceeds Telcordia TR-TSY-000763 tests
MF Tone Detection
Versions
US MF, ITU Forward, ITU Backward
MF digits
0 to 9, KP, ST, STP, ST2P, ST3P per US (R1)
Dynamic range
Software configurable: -35 dBm to -5 dBm
Fax (optional)
Image formats
MH, MR (ITUT.4), MMR (ITUT.6)
Error Correction Mode (ECM)
Yes
Resolution: standard, fine, super-fine; Page Format: A3, A4, and B4
Yes
Requirements (in addition to at least one Dialogic CG Series Media Board)
Dialogic NaturalAccess NaturalFax API license and Dialogic NaturalAccess Software
Fax modems

V.21 (300 bps) for T.30 fax negotiation
V.27ter (2,400/4,800 bps, required by Group 3)
V.29 (9,600, 7,200 bps)
V.17 (14.4, 12, 9.6, 7.2 kbps) transmit/receive

Fax port capacities (Maximum Fax Ports per Board)
240
Conferencing (optional)
Capacity
Up to 240 ports of 3-party conferencing
Maximum conference size
128 members
Line echo cancellation delay
10 ms or 20 ms
SIP signaling support (optional)
Requirements (in addition to at least one Dialogic CG Series Media Board)
Dialogic NaturalAccess SIP for NCC license and Dialogic NaturalAccess Software
Supported Transport Layer Protocols
UDP, TCP
SIP Methods supported
INVITE, ACK, BYE, CANCEL, REGISTER, INFO, PRACK, REFER, SIP Session Timer
IETF standards and drafts
Supports many IETF SIP standards, including:

RFC3261 (SIP: Session Initiation Protocol)
RFC3262 (Reliability of Provisional Responses in SIP)
RFC3264 (An Offer/Answer Model with SDP)
RFC3265 (SIP Specific Event Notification)
RFC3515 (SIP: REFER Method)
RFC4566 (SDP: Session Description Protocol)

Also supports numerous Internet Drafts for SIP extensions and various IETF and 3GPP SIP and SDP extensions

Protocols
ISDN PRI
NI-2, 4ESS, 5ESS, DMS100, DMS250, INS1500, EuroISDN, VN6, QSIG, Austel
CAS

Worldwide MFC-R2 variants
Feature Groups A, B, and D
OPS/OPX
Loop Start
Ground Start
SS5
International wink start
Digital E&M variants
NEC PBX
MD110 EL7
MELCAS
MF Socotel
European country-specific variants of CAS

Italy (Norma CEI 103-1/7)
Sweden (P7/P8)
Netherlands (ALS70D)

CAS R1.5
Australian P2